---
Choose the Best Shark Vacuum for Pet Hair
[modalsurvey id="1878527667″ style="flat"]
Customer's Choice: the Best Rated Shark Vacuums for Pet Hair
[survey_answers id="1878527667″ style="plain" data="score"] users answered this survey. Please help us improve this review!
[survey_answers id="1878527667″ style="piechart" legend="true"]
[survey_answers id="1878527667″ qid="1″ aid="1″ style="plain" data="answer_percentage"] of users selected [survey_answers id="1878527667″ qid="1″ aid="1″ style="plain" data="answer"], [survey_answers id="1878527667″ qid="1″ aid="2″ style="plain" data="answer_percentage" init="true"] selected [survey_answers id="1878527667″ qid="1″ aid="2″ style="plain" data="answer"], [survey_answers id="1878527667″ qid="1″ aid="3″ style="plain" data="answer_percentage"] selected [survey_answers id="1878527667″ qid="1″ aid="3″ style="plain" data="answer"], [survey_answers id="1878527667″ qid="1″ aid="4″ style="plain" data="answer_percentage"] selected [survey_answers id="1878527667″ qid="1″ aid="4″ style="plain" data="answer"] and [survey_answers id="1878527667″ qid="1″ aid="5″ style="plain" data="answer_percentage"] selected [survey_answers id="1878527667″ qid="1″ aid="5″ style="plain" data="answer"]. Every month we analyze your answers and change our rating.
---
Cleaning has become our daily routine. To make our lives easier by simple and quick clean-ups, we need a helper at home – a powerful vacuum cleaner. A wide variety of vacuums is available to order online or at local stores. They differ in types, functionality set, price and even intention for use.
Whatever your cleaning needs are, they are felt more if you have pets at your place. Cats and dogs are friends and family members in thousands of homes nowadays. But the owners face one annoying thing about their pets: their hair is all around the house – on carpets, hard floors, furniture, stairs, and drapes. In such cases, pet lovers should pay attention to the fact whether a vacuum cleaner they consider comes with pet-specific tools (Check the Buyer's Guide for more detailed info). Yes, pets are warm and fuzzy but they need to be cared for, and your home also needs to be taken care of so that no pet hair annoys you or your guests.
We have chosen top 5 Best Shark Vacuums which can be used for both general cleaning and tackling pet hair. Each has its strong and weak points. Nevertheless, they are effective cleaning tools that may come in handy for you. Learn details about the models in the comparison table below.
Shark NV356E Navigator – the Best Option For the Money!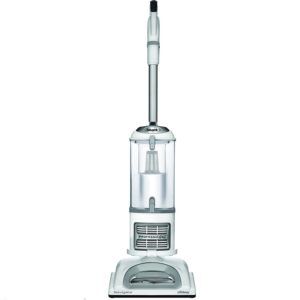 The Shark NV356E Navigator is a powerful bagless vacuum cleaner, suitable for deep cleaning of carpets as well as tackling debris from hard floors. This is an upright model vac that can be used for cleaning above the floor due to detachable Lift-Away pods.
This Navigator is of white/silver color. Though it has a 30 feet power cord, the vacuum is lightweight and maneuverable. The Swivel Steering enables you to do cleaning around the furniture quite conveniently. Removing and emptying the dust cup, the capacity of which is 2.2 quarts, does not require much effort.
The Shark NV356E Navigator captures 99.9 % of dust and allergens. It is fitted with an anti-allergen sealing technology and a HEPA filter. The Shark Navigator is based on ASTM F1977 at 3 microns and larger. You can shut off or adjust brush rolling for a specific type of surface you are going to clean. The standard brush is intended for use on carpets and the gentle brush is good for hard floors.
Pros
Pros
Works well on both carpets and hard floors;
Appears not to emit dust;
Fitted with a pet power brush and a crevice tool;
Stands out with adjustable suction power;
Has an easy-to-assemble construction;
Features a completely sealed Hepa system;
Advanced Swivel Steering ensures maneuverability;
Equipped with an easy-to-remove XL dust cup;
The rotating brush does not stop spinning even if it is wrapped in hair;
Offered with a 5-year limited Sharkninja warranty.
Cons
Cons
Might not pick up debris well despite a powerful suction;
Unreliable warranty: tends not to cover defective products;
Features a rather short and non-flexible hose;
The hose is not sturdy and may split at the handle;
Comes not ready-to-use, but needs assembling;
A corded model;
Has no headlights.
The Shark NV356E Navigator may be a perfect choice if you have an urgent need to get a tool, capable of easing your fight against pet hair all over the house, but at the same time, you are looking for a more or less universal vac which will come in handy for other reasons as well.
---
Shark NV352 Navigator – Best For Your Convenience!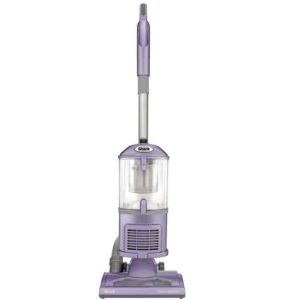 Weighing about only 14 lbs, the Shark NV352 Navigator is a smaller model in comparison to the NV356E. It is versatile, lightweight but powerful as well. This vacuum cleaner operates on a 1200 Watt, 10 Amp motor.
Thanks to Swivel Steering, the Shark NV352 Navigator is an upright vac of a lavender color. It can be easily maneuvered around furniture for a thorough inside cleaning. You can reach above-floor areas due to a Lift Away feature with the detachable pod that can be effortlessly cleaned. In order to reach tight spaces you may use crevice tools, of 5.5 inches or 24 inches, and a wide upholstery tool which come as a set. The pet power brush is optional and it is air-driven.
Fitted with the Anti-Allergen Complete Seal Technology and a HEPA filter, Shark NV352 Navigator is safe to use. It captures dust and allergens inside rather thoroughly.
You are able to adjust brush rolling to switch from deep carpet cleaning to gentle bare floor cleaning. Moreover, the suction power may be decreased/increased.
Pros
Pros
Demonstrates strong suction power;
The suction power is adjustable;
The Swivel Steering adds maneuverability;
Can pick up cat litter;
A rather small and lightweight model;
Ensures proper edge to edge cleaning;
Easy to maneuver and navigate;
Available at a reasonable price for the quality.
Cons
Cons
Not intended for picking up paper clips;
Might shock you;
Has a rather short hose that does not stretch enough;
The container needs frequent emptying since it fills up quickly;
Comes under an unreliable warranty;
Does not have the certification from the Carpet and Rug Institute;
May lose suction and produce much noise if the mesh screen inside the canister gets clogged and is not cleaned in time;
The use in different countries may be problematic (since it Is engineered for use in North America on 120 Volts);
You may be disappointed with getting a Pet Upholstery Tool instead of a Pet Power Brush in a set;
You may have to plug it into different outlets to finish cleaning the house due to a short cord.
In case you seek a small, versatile but powerful vac to deal with pet hair on various surface types, Shark NV352 Navigator may satisfy your needs. It can become your reliable helper, being safe to use even if you suffer from allergies.
---
Shark Rocket DeluxePro – Perfect For Quick Pick-ups!
The Shark Rocket DeluxePro is an ultralight stick vacuum. This bordeaux colored model features great suction power. It works well both on carpets and hardwood floors.
The attached tools make it possible to do a versatile floor-to-ceiling cleaning, deep cleaning of carpets, cleaning under furniture. The Shark Rocket DeluxePro vac comes with a motorized floor nozzle, a duster crevice tool, and a pet multi-tool. This model is corded, the length of the cord is 25 feet, and bagless, contains an XL-capacity dust cup. It operates on 20 Volts. The vacuum cleaner is equipped with LED headlights and Advanced Swivel Steering.
The brush roll can be adjusted to either a quick mode for cleaning of high pile carpets or a slow mode for cleaning bare floors. The Duster Crevice Tool, the vac comes with, grants you extended reach into tight areas. The Shark Rocket DeluxePro vacuum can be used to tackle embedded pet hair from different types of surfaces due to the Pet Multi-Tool coming as a set.
Pros
Pros
Ultra-lightweight and steerable;
Is characterized by a pleasant design;
Has different brush roll modes available for different types of surface;
Can be easily converted into a hand vacuum cleaner;
Suitable for multi-surface cleaning;
Features Advanced Swivel Steering ensuring great maneuverability;
Works well to pick up cheerio-sized debris;
Fitted with LED headlights to pick up hidden debris;
Contains a removable, quick-to-empty dust cup;
Includes washable filters;
Simple to assemble;
Ensures a thorough cleaning along the floor edges against walls.
Cons
Cons
You may have to empty the dust cup a few times to finish cleaning up your house;
Not the best choice for those who suffer from allergies;
Does not include a Hepa filter;
You may be disappointed by getting standard attachments instead of the promised motorized pet attachment or hard floor duster;
The crevice tool is not sturdy and may fall off;
Easily gets clogged with cat hair which can be removed though;
A corded model, the vac is not rechargeable.
If you are looking for a powerful vac for quick daily clean-ups and you need the one which would work well on various surface types, you may like the Shark Rocket DeluxePro vacuum cleaner for its versatility. However, if your primary need is tackling pet hair it might be useful to consider other variants.
---
Shark Pet-Perfect Hand Vacuum – the Best Portable Option!
The Shark Pet-Perfect Hand vacuum cleaner features Twister Cyclonic Technology ensuring a strong suction. This model has a rechargeable 15.6V battery.
It is cordless and bagless. The capacity of the easy-to-empty dust container is 1.8 quarts. The Shark Pet-Perfect Hand Vac contains a detachable motorized brush which can pick up debris from different kinds of surfaces (carpets, upholstery, car seats, and mats, etc.). With this Shark vacuum cleaner, you can reach tight areas to remove debris from there due to a crevice tool attached. Find out its advantages and disadvantages below.
Pros
Pros
Lightweight and portable;
Includes a crevice tool for deeper cleaning of hard-to-reach places;
Packed with a charging adapter;
A bagless model;
Includes a large-capacity dust cup;
Works great for car vacuuming;
Contains a washable filter;
Can be used to suck up cat litter and pet hair;
No need to hold down the power button to use the vacuum cleaner;
Offered with a one-year limited warranty from Sharkninja.
Cons
Cons
Repairing is economically unviable;
Distinguished by a non-replaceable belt;
A high risk of poor battery life;
The recommended temperature to charge the battery is not lower than 32°F.
If you need an easy-to-use, powerful, portable tool to clean up hard-to-reach areas at home or in your car, or tackle pet hair around the house you may like this hand vacuum cleaner. It deals well with pet hair and is good for general use as well.
---
Shark Rotator Professional – the Quietest Option!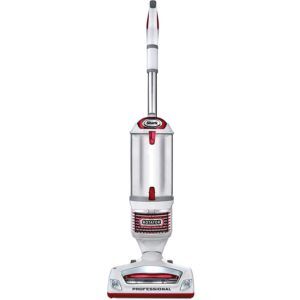 The Shark Rotator Professional is a bagless vacuum cleaner with an XL dust cup, the capacity of which is 1.3 quarts. The color scheme is white with red chrome.
This is a powerful tool to clean up carpets and hard floors with. The Rotator features a swivel steering and ensures deep carpet cleaning. It produces little noise. The vacuum cleaner is safe to use as it is equipped with Anti-allergen complete seal technology, and it contains a HEPA filter. The length of the hose is 8.4 feet. Cleaning with the Shark Rotator vac leaves a path 11.5 inches in width.
The Shark Rotator Professional Vacuum Cleaner includes premium pet tools so it is effective in tackling pet hair. It also has ergo cleaning accessories as a set. The construction of the Shark Rotator enables us to turn it into a canister vacuum.
Pros
Pros
Includes removable filters, easy to clean;
Contains a Hepa filter;
Demonstrates ultra quiet operation;
Has a quick-to-empty XL dust cup;
Fitted with headlights to detect and pick up debris from dark corners;
Lights up the path to tackle hidden mess;
Enables users to clean overhead with a wand;
Works well on curtains;
Ensures above-floor cleaning with an upholstery tool.
Cons
Cons
Not self-propelled;
The cord does not retract;
You may find it hard to pull the vacuum cleaner on a high pile carpet;
Unreliable Shark warranty: it does not cover defective products, or implies at least paying the shipping cost for details by customers.
The Shark Rotator Professional may be a great choice for those who seek a powerful but safe and quiet tool to clean up around the house.
---
Buyer's Guide
Based on your FAQ, we have decided to draw your attention to the moments worth considering when choosing a vac. Choosing the right vacuum cleaner to satisfy your needs demands a great focus on the following issues:
Your home size & flooring
You should estimate your house to decide on your needs and find what will work out best for you. Mind the following considerations:
If you live in a huge house, it may be reasonable for you to buy a big powerful vacuum cleaner with big capacity of the dust container. This is needed not to waste time on often emptying the container after literally every room. However, owners of flats and apartments obviously should think about the space limits. Big vacs occupy much space for storage. Moreover, they are difficult to maneuver and you should not burden yourself with doing this if your cleaning up is going to take you about 15 minutes.

Type of flooring is a separate important point to consider. Is it carpets that prevail at your place or hard floors? Or maybe you have them both? On that base, look for

vacuum cleaners

with corresponding specifications. Usually, they are indicated in descriptions. Get acquainted with full vac's description before making your choice.
The pet living in your home
The breed of your pet plays a significant role here. Do you have a short-haired Basset Hound or Burmese Cat? Or maybe there is a long-haired Afghan Hound or Siberian Cat living in your house? The rate and amount of fur they shed differ. Obviously, you need your vacuum cleaner to have specific features that will be helpful depending on the case.
Your preferences in the type of a vac cleaner
Among a variety of vacuum cleaners, you can choose between bagless and bagged ones; cordless and corded, with HEPA filters or without it.

If you are tired of changing bags in your vac and they are constantly running out, replace it with a bagless vacuum. Such vacs contain a dust cup instead which is easy and quick to empty.

Cordless vacuum cleaners are easy and convenient to navigate while cleaning around the house. Besides, they may come in handy for you in cleaning outside, your car, for instance. Corded bags, on the contrary, are intended for cleaning inside only. However, you do not have to worry about its battery life, whether you will manage to finish the cleaning or not.

If you suffer from allergies but you still have a pet at home, maybe a hypoallergenic breed, you should definitely purchase a vacuum cleaner with anti-allergen seal technology. Hepa filter ensures the vac picks up even the smallest

particulates

, sized

0.3 microns.
What extra tools should I look for in a good vac?
Very often, vacuum cleaners come with useful attachments. But not all of them. However, additional tools, in this case, may be bought separately. Here is a list of tools which may come in handy:
An upholstery tool

, great for cleaning furniture and mattresses

A hardwood floor brush too

l, perfect for cleaning wooden and tiled floors.

A crevice tool

to reach tight spots, difficult to clean without additional tools;

A beater bar brush or a brush roll

, great for a deep clean of carpets;

A dusting tool

to collect dust;

A ceiling fan

to tackle the dirt from fans and blinds;

An extension tool

to get into corners, ceilings or behind appliances;

A motorized brush head

works well to clean carpets and rugs, stairs, upholstery, car seats, and mattresses.

A mattress tool

, intended for mattresses cleaning.
What should I pay specific attention to in a vacuum cleaner?
If you wonder what features you should concentrate on when choosing a perfect vacuum cleaner for your needs, take advantage of the list below:
Maneuverability

. A good vac is supposed to be maneuverable so that you could go easily around pieces of furniture and move from one room to the others.

Durability

. This implies how long a certain vac is likely to last. Read reviews to learn its potential durability. This point implies not only the battery life but also the vac's potential life in general.

Capacity of a dust cup

. The more capacity a certain vac has, the less frequently you will have to empty it and, therefore, the more time you will save for finishing the cleaning process.

Performance

. Learn on which surfaces a certain vacuum cleaner demonstrates its best performance. Mind also its motor and battery characteristics.

Weight

. The lighter a vac is, the fewer efforts it will take you to navigate it, and the less efforts cleaning will take you.

Size

. The smaller a vacuum cleaner is, the less space it requires to be stored in and vice versa.

Filters

. They should be removable and washable for longer vac's life. In ideal, a perfect choice will be the vacuum cleaner with a HEPA filter embedded.

The hose length

. The longer the hose is, the higher places you can reach to clean. The length of the hose, and the vac's type, permitting, you can go above floor, clean curtains and furniture.

Warranty

. You should prefer companies standing for their product and providing a warranty for free repair or replacement. Learn from reviews whether the warranty does work in real.
Mind the given points in descriptions of the vacuum cleaners you like to choose the best one for your needs!
Video Tutorial: Shark Navigator Lift-away Pro Review and Test
Final Thoughts
Choosing a vacuum cleaner demands great focus from you if only you do not want to make the wrong choice and come back to picking up a new vac in several weeks or so. Taking into consideration the issues mentioned above, make your choice.
We have done our best to assist you in this matter. We have selected the best vacuum cleaners to tackle pet hair along with doing regular clean-ups. We have also provided you with all the important features a good vacuum cleaner is supposed to have. One more tip before purchasing – view buyers' reviews on Amazon first. Thus, you will learn all the pitfalls that may occur and disappoint you sooner or later. Read carefully the pros and cons of each model and buy your perfect vacuum cleaner. Next step is yours! Good Luck!
---