---
Choose the Best Upright Vacuum
[modalsurvey id="1353661373″ style="flat"]
Customer's Choice: the Best Rated Upright Vacuums
[survey_answers id="1353661373″ style="plain" data="score"] users answered this survey. Please help us improve this review!
[survey_answers id="1353661373″ style="piechart" legend="true"]
[survey_answers id="1353661373″ qid="1″ aid="1″ style="plain" data="answer_percentage"] of users selected [survey_answers id="1353661373″ qid="1″ aid="1″ style="plain" data="answer"], [survey_answers id="1353661373″ qid="1″ aid="2″ style="plain" data="answer_percentage" init="true"] selected [survey_answers id="1353661373″ qid="1″ aid="2″ style="plain" data="answer"], [survey_answers id="1353661373″ qid="1″ aid="3″ style="plain" data="answer_percentage"] selected [survey_answers id="1353661373″ qid="1″ aid="3″ style="plain" data="answer"], [survey_answers id="1353661373″ qid="1″ aid="4″ style="plain" data="answer_percentage"] selected [survey_answers id="1353661373″ qid="1″ aid="4″ style="plain" data="answer"] and [survey_answers id="1353661373″ qid="1″ aid="5″ style="plain" data="answer_percentage"] selected [survey_answers id="1353661373″ qid="1″ aid="5″ style="plain" data="answer"]. Every month we analyze your answers and change our rating.
---
Did your old vacuum bite the dust and now you have to shop for a fitting replacement? Then you may consider buying an upright vacuum cleaner. Nowadays it is one of the most popular designs of cleaning household devices on the U.S. market. In fact, upright vacuums were also quite popular back in the days. Now they receive deserved attention because of multiple benefits:
A number of different attachments they have;

Powerful suction and performance – they are heavy-duty machines;

Large capacity of a bag;

Portable and easy to store;

Sleek design;

They cost less than canister vacuum cleaners;

Good for cleaning the carpets with thick pile;

Simple to use/adjust;
As you might have heard, upright vacuums used to be bulkier than canister models. The positive news is that the industry is full of lightweight versions. Some upright vacuums weigh less than 15 pounds.
Check the following guide and reviews of 5 different upright vac cleaners. The comparison table will assist in finding the tech specs of each model before buying.
Hoover T-Series WindTunnel Rewind Vacuum Cleaner– the best for cleaning old dirt!
The Rewind Plus by Hoover is a T-Series vacuum with a removable dirt cup. Also, it has attachment equipment that extracts deep dirt from just about any surface in your home. You can clean any surface with the 5 different head heights for vacuum.
You can lower the cleaner's head easily to glide and suck up debris from hardwood or lift it to tidy thick carpets. [tds_info]
Tips for users:
pick "High" for cleaning thick carpets with the maximum suction of a brush roll and "Low" for cleaning hard surfaces.
[/tds_info]
Pros
Pros
HEPA Media filter
The powerful Windtunnel tech for cleaning deep and old dirt
Can cope with any dust, pollen and debris down to 0.3 microns
5 different adjustments
Lightweight
Good for cleaning hardwood floors and thick rugs
The self-rewind of the cord – just push the pedal
8-foot hose
Cons
Cons
Can make high-pitched noises at high suction power
Flimsy attachments
You may clean every nook in your home with the accessories kit. The HEPA Media filter is placed at the vacuum base. This filter traps 99.97 percent of dirt, dust, pollen.
Bissell Cleanview Upright Bagless Vacuum Cleaner– the best for pet owners!
The Bissell CleanView Upright has a relatively ordinary, conventional bagless vacuum cleaner look. At the same time, it offers a lot of cleaning power. The vac includes 5 suction adjustments and the "one-pass" layout by Bissell, that grabs debris of all kinds during the push-pull cycle. It can be especially great for cleaning pet dander.
The look-through dirt bin displays the suction in motion, offering whirling evidence of extracting the mud. A three-level filtration device collects tiny particles, and the washable filter may be used frequently until a replacement is required. The vast bin of the Bissell CleanView vac is easy to empty with the click of a button when it is time for dirt disposal.
Pros
Pros
Good for removing pet hair safely from any surfaces
Multi-cyclone tech
Multi-level filtration with removable and washable filters
The large capacity of the dirt bin – up to 2 L
Can cope with carpets, hardwood floors, upholstery and stairs
Portable and lightweight
The bagless design
Affordable
Cons
Cons
Won't cope with plush carpets
Flimsy attachments
The hose is short – under 6 feet
Within the scope of upright vacs, the CleanView is of medium weight and size and has a 25-foot cord with extensive cleaning coverage for consumers. Bringing the vacuum up and down the stairs can be a little difficult, but it offers a handle to ease the lift.
Oreck Commercial XL2100RHS Upright Vacuum Cleaner– the best for portability!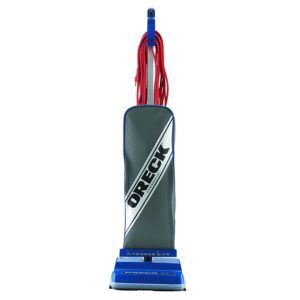 The Oreck Commercial XL2100RHS upright vacuum is good for cleaning most surfaces including bare floors, tiles, laminate, hardwood floors and thin carpets. However, its main feature is weight – only 9 pounds.
This flexible upright device keeps your house clean effortlessly. It stands between cabinets and baseboards and fits well beneath most beds, shelves of clothing, chairs and desks. It has the unique Microsweep feature that enables you to move from carpet to bare floor without modifications, and a "top full" bag of 630 cubic inches.
Pros
Pros
Very powerful thanks to double helix brushes
Portable and lightweight
The feature of automatic floor adjustment
Includes the brushes for cleaning the corners and edges
Has a cord guard
Simple to turn on/turn off
Long cord
Cons
Cons
Users have to change the bags inside
The cleaning path width is below average – 12 inches
Won't be able to clean the ceiling
Limited warranty – only 1 year
Everything from the beater bar to the lightweight construction of this upright vacuum tends for optimum carpet cleaning. It is using a bagged device so it really isn't costly if you're concerned about the expense of the containers. Know if there's a ton of carpet in your household, allergens appear to get stuck within.
Dyson Upright Vacuum Cleaner– the best for the heavy-duty use!
Recommended for carpets and hard floors, the Dyson upright vacuum is a real classic device with the strongest suction performance. It is a heavy-duty vacuum with effective HEPA filtration.
The Ball Animal 2 tech stands for an integrated self-adjusting cleaner head that switches seamlessly across carpets and hard floors – suction sealing over both floors to handle the hardest tasks. The wand and hose detach in one seamless movement to render cleaning above and under furniture simpler.
Pros
Pros
Strong suction
Advanced ball tech
Includes a stair tool
The capacity volume is 0.55 gallon
Good for cleaning the houses with pets
5-year warranty
Washable filters
Cons
Cons
A bit bulky
Not good for thick carpets because it may be stuck
There is no reason to get your hands filthy with hygienic bin emptying-just press the button to clear the water.
Shark Navigator DLX Upright Vacuum – the best for the price!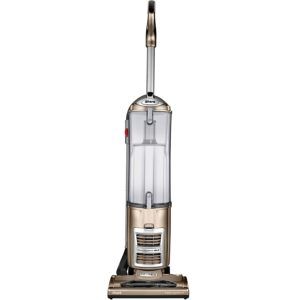 The Deluxe Shark Navigator could be a fantastic vacuum, at an even better quality. It scored well around the board and retails for less than half the price of each edition. This is the vacuum for anyone still seeking a decent machine but not investing more than $200 on a device.
Because it is an upright vac and can conveniently clean everywhere. It will sweep the building off as well, not just on the board. It will clean the roof surface as well as places that are challenging to access. The cleaner also features an unprecedented power swivel-turning tech. And the lightweight and compact style makes it simple to transport and store.
Pros
Pros
Great price
Durable
HEPA filters
Quite maneuverable
Extra-huge dust cup – 3 times larger than any standard cup
Anti-allergen tech
Good performance
Simple to use
Quiet
Cons
Cons
The cleaning width path is small – under 10 inches
Not good for cleaning stairs
The Shark Navigator is a perfect choice for anyone shopping on a budget. For pet owners, this model is an especially good option for its results alone — without considering its quality. This vacuum can tackle the most typical mess, and is more than strong enough to keep your surroundings clean and cool.
The Buyer's Guide
Bag or bagless?
For bagless vacuums, obviously, no misconceptions should be made. The best ones do great cleaning jobs. Yet sufferers with allergies and asthma need to remember all the particles they'll be subjected to while running the bagless cleaner.
Whatever bagless vacuum cleaner you use, it all comes down to extracting a tub of dust and allergens and crudity that you have cleaned so diligently from your house, and pouring it into one that you may throw away. That will emit a layer of dust and allergens into the air you breathe when you throw it away, and as the layer scatters and drifts into the rest of your house.
Additionally, bagless vacuums utilize filters to brush or scrub out small debris. That will also bring the allergens and soil you've just cleaned back into your house.
Compatibility with carpet fibers
Most upright vacuum cleaners can perfectly cope with hardwood floors and solid surface. But when it comes to carpeting, you should carefully check the manufacturer's recommendations for each device. Because not every vacuum can deal with the heavy dirt over deep-pile carpets.
The type of fabrics, which your carpet is made with, is as important as the traffic spots. Much of today's carpeting is made of polyester and synthetic materials, mostly nylon. Synthetic fabrics are very strong and the most powerful vacuum cleaner may be used without risk of injury to the fabric.
Performance
A number of vacuum cleaner makers advertise their products in watts or amps. These measure the vacuum motor's efficiency, and years of selling vacuums in this manner have mistaken "strength" with the output. Watts and amps inform you how much electrical power the motor of the vacuum cleaner requires, not how much suction force the unit produces to suck up dirt and dust.
To do so, you have to learn the suction of the vortex. Currently, engine power scores don't actually signify much at all. A 10-amp motor, whether it is built to be more powerful, will produce more suction force than a 12-amp motor.
Filtration system
Many professional vacuum cleaners should do the correct job of cleaning the air the unit leaves. But if someone in your household suffers from allergies, asthma or some other health problem that is caused by small particles or allergens in indoor air, it is highly advised that a high filtration or HEPA vacuum be fitted.
HEPA stands for Particulate Air with high quality. A HEPA filter will eliminate 99 percent of all contaminants from the air going through it, as low as 0.3 microns in thickness. This is the 'true' filtration system used for residential applications.
You should look for the labels as "Certified HEPA," "Real HEPA" or "Full/Absolute HEPA." All these are HEPA filters that follow the same standards. Otherwise, it is a fake.
Also, consider using the vacuum cleaner with water-based filtration systems – they do not require the use of HEPA filters. But it can be a worse decision if you are allergic to dust.
Durability
Also critical is the efficiency of your vacuum cleaner and that can decide whether your vacuum should be replaced in a year or two or can last for several years and even decades.
Value the consistency of the structure in measuring the vacuum cleaner's durability. Look for high performing sturdy parts, as opposed to products that seem flimsy or fragile. Check for a decent match and end without raw edges. The seals should be heavy-duty, as well as the parts that should open and shut with a good sturdy feel.
Noise level
The amount of noise such devices produce is measured in decibels (dB). Talking at home is graded to 50dB, garbage disposal to 80 dB and a tractor or lawnmower to 100 dB to give you an indication. Highly silent vacuum cleaners will run throughout the mid-60 dB rates whereas cleaners throughout the 70-77 dB range are always fairly quiet similar to the traditional vacuum cleaners.
Capacity
A vacuum cleaner's capacity is related to the scale of the dust bag, bin or cup. The broader it's, the less often it has to be changed and cleaned.
If you have a huge house and/or plenty of traffic spots (think of your kids and pets) that ensures you'll have more dirt to clean. Think of a full-size vacuum cleaner with a large dust bag in this situation. This way, you won't have the hassle of adjusting the bag continuously or emptying the cup.
Attachments
All vacuum cleaners come with a few attachments. Some of them are worthy; some of them are quite rarely used. It is good if an upright vacuum comes with such attachments:
The flexible crevice tool with a bendable nozzle;
A dusting brush with soft bristles for cleaning fragile items;
A handheld turbo-brush for cleaning pet hair;
Video Tutorial: Shark HV320 Rocket True Pet Ultra Light Upright Vacuum Cleaner Unboxing & First Look
Final thoughts
Upright vacuum cleaners might be not as powerful and functional as canister-based vacuums. But the uprights are more affordable and lightweight – even children and the elderly people can easily use the devices. So, consider what model has the best features for your household and only then make a final decision.
---