It seems like no matter what one does, it's impossible to keep a carpet free of stains. They'll come eventually, if not from pets, then general wastes and spills. The issue can be exacerbated if the stains are allowed to sit for long periods of time without cleaning them up. At times, doing a quick clean is impossible, particularly if the stains cannot be seen well. You may have to spot them through smell alone, or black light. Whichever method you choose for detecting carpet stains, having a proper cleaning solution is most important. There are ten carpet cleaning sprays shown below, developed with formulas that will lift up stains and odors you may have thought was permanent. Read up on them, then switch to the Buyer's Guide for pointers to help you pick the right brand.
Folex Carpet Spot Remover – Best Carpet Cleaner for Fast Cleaning Time (Editor's Choice)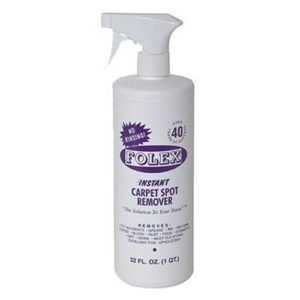 The Folex Carpet Spot Remover comes in a single white spray bottle, activated by pressing the trigger on the top. There are 32 ounces of solution inside, along with the right compounds to erase stains quicker than you may have even seen before. There's likely nothing in your home or automobile that won't be able to come up with it.
If you've found other carpet cleaners off-putting due to their sometimes strong smell, this is the best cleaner for you. Although it is lightly scented, it's not powerful to the point where you'll want to open every window in your house. And best of all, you won't even have to pre-treat anything prior to spraying on the Folex cleaner. Start eliminating odors as soon as it arrives at your door.
Pros
Pros
Has the ability to lift up stains as soon as it touches the carpet
The scent isn't too strong; recommended for people sensitive to chemical odors
Carpets won't need to be pre-treated when using the product
Cons
Cons
---
Bissell Professional Power Shot Oxy Carpet Spot – Best Carpet Cleaner for General Purpose Stains (People's Choice)
The Bissell Professional Power Shot Oxy Carpet Spot is sold in an aerosol can and has a very powerful formula that can penetrate anything you spray it at. At the microscopic level, it works by moving dirt and bacteria from the carpet, all while killing pathogens at the same time.
If you have to spot clean, it's a great spray to have around. You won't even have to break out the electric cleaner if you don't want to. While there's enough inside to clean spots, it's recommended that you acquire at least two if your home is large and has numerous stains around. You don't want to have it empty on you in the middle of cleaning, as the can is only 14 ounces. Still, the Pro Power Shot is the way to go for people with a preference for getting rid of stains using the old fashioned way.
Pros
Pros
Separates dirty and bacteria from the carpet onto cleaning clothing quickly
Powerful enough to completely replace the need for an electric carpet cleaner
Completely eliminates pet stains and their odors
Cons
Cons
As the can is aerosol, the stream cannot be altered
Doesn't last long
---
Bissell Destroyer Pet Plus – Best Carpet Cleaner for Pet Stains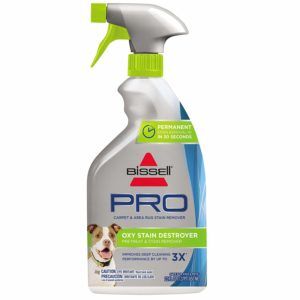 The Bissell Destroyer Pet Plus has a primary focus on pet stains, but there's more that it can get up from your carpet as well. If you own cats or dogs, it can wipe both odors and discolorations in your carpet almost immediately. In fact, there's really little scrubbing that will be required for you to see the effects.
Just spray it on to the affected area, and let the formula itself do most of the work for you. Of course, you'll need a cleaning cloth to make sure everything gets up, but it's nice to know that you won't have to put in too much elbow grease in the process.
The smell is actually very nice and gives off an aroma that's almost identical to clean linen. It seems to work especially well on very dark stains, do make use of it if your carpet is much lighter than the stain you're trying to get out. You would need to use more spray on the tough spots, but everything should go away with no problems.
Pros
Pros
Spray nozzle doesn't clog, even if the top is left off for several hours
Has a pleasant smell that isn't overbearing
Formulated to get rid of dark colored stains immediately
Cons
Cons
Residual stains must be sprayed longer
---
Woolite INSTAclean Permanent Pet Stain Remover – Best Nontoxic Carpet Cleaner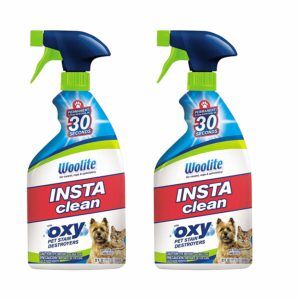 The Woolite INSTAclean Permanent Pet Stain Remover is sold in a bundle of two bottles. Each of them is 22 ounces, so you probably won't need to make an additional run for more carpet cleaner for quite some time.
But if your home is large or consists of a lot of stain areas, there's more than enough formula to ensure that quantity isn't some time to worry about when getting them out. When you begin your clean, you'll notice yourself working and sweating less when compared to what you would do with many other cleaners.
If there are any hard stains in your carpet that you thought were permanent, it's guaranteed to get them up. You might have to use a pre-treatment with some, but things should be eliminated nonetheless. It does have a chemical smell to the mixture, so be sure to open up a window or two when you spray it. For those that are sensitive to such smells, consider some of the other lighter products shown.
Pros
Pros
Hard scrubbing isn't necessary for general stains
Doesn't cause irritations and children and pets
Gets up "permanent" mud stains without the need to drench the carpet the area being treated
Cons
Cons
Has a slight odor that some may find off-putting
---
CarGuys Super Cleaner – Best Carpet Cleaner for Accessories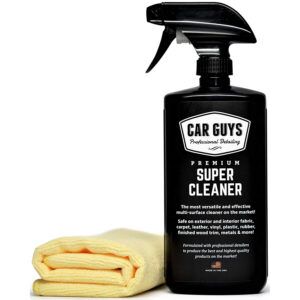 The CarGuys Super Cleaner is 18 ounces and sold in a black plastic bottle. The nozzle turns, which will allow you to alter the way it sprays when in use. You can turn it so that the liquid covers a wide area, and concentrate on a specific spot with a stream.
Along with home carpets, you can also clean your car's floor, seats, and upholstery to an almost like-new state.
Additionally, the product has a cleaning cloth included with it, so you won't have to purchase anything more to use it by hand. If your skin is sensitive to such cleaners, it's highly recommended that you use cleaning gloves when handling the spray. If not, it could irritate your skin until you wash it off. Regardless, the CarGuys Cleaner is the way to go if you plan on touching up your ride after taking care of your home carpet.
Pros
Pros
Works well on both automobile and residential carpets
A cleaning cloth is included with the product
Can be used as an alternative upholstery cleaner
Cons
Cons
May irritate the skin (gloves are recommended)
---
Simple Solution Extreme Pet Stain and Odor Remover – Best Carpet Cleaner for Odor Eliminnation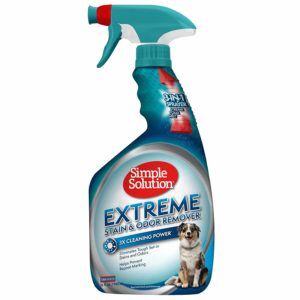 The Simple Solution Extreme Pet Stain and Odor Remover has a cute dog on its label, which indicates that the formula works well for pet stains. But don't stop there; the spray with clean up spots in your furniture, bedding, and even some machine-washable clothing.
Be careful if you do the latter, and always test out a small area before applying more. It smells great too. If it were not for the label showing what the product is for, you probably wouldn't think it was a carpet cleaner at all. But with a great scent comes a slight price. You'll have to use a lot of it to get out general stains, and never more with tougher ones. As such, look into buying more if your carpet hasn't been cleaned for a long time.
Pros
Pros
Gets rid of odors fast, no lingering scents left after cleaning
The smell is lightly scented but not strong to the point of needing to open windows
Lifts up wine stains
Cons
Cons
A lot of the formula will need to be used for tough stains
---
Rocco & Roxie Professional Strength Stain & Odor Eliminator – Best Carpet Cleaner for Permanent Stains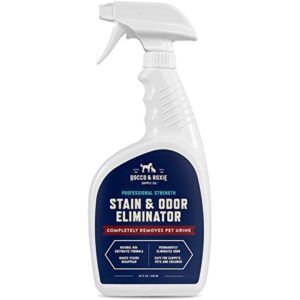 Have you ever heard of the Rocco and Roxie brand before? If not, you're in for a real treat (or treatment, for your carpet). The Professional Strength Stain and Odor Eliminator has a little bit of everything that one needs in a carpet cleaner. It's very versatile, so you can clean carpets along with hard floor with it.
Pet odors go away fast, and the smell from urine doesn't linger anymore after you've cleaned it the first time. You can try spot cleaning your laundry before placing it in the machine. Doing so will make otherwise impossible stains to go away disappear. There are also detailed instructions listed on the back of the bottle, so read it if you've never tried spot cleaning before.
Pros
Pros
Safe to use for treating laundry prior to washing in a machine
Recommended for floors with very strong pet odors
Instructions for cleaning with the product are easy to follow
Cons
Cons
May cause some discoloration on very dark carpets (depending on the material)
---
Woolite Advanced Pet Stain & Odor Remover – Best Multi-Purpose Carept Clenaer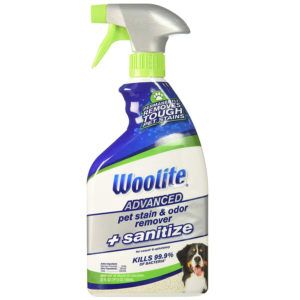 The Woolite Advanced Pet Stain & Odor Remover is a cleaner for more than just carpets. With it, you can get up spills and stained areas on your mattresses, sofas, couches, and pet furniture. It also smells really well; there will be no worry if you getting woozy just from cleaning your carpet. And it gets up everything.
This means there's no leftover residue left on the fabric for you to brush over after everything is dry. It'll all come up fast, and leave your carpet or rug smelling as fresh as it did on the day that it was installed. However, the smell is good but can get very strong, so only use in a location that is properly ventilated if you can.
Pros
Pros
The cleaner is multi-purpose, whereby fabric furniture can be cleaned with it (along with carpet)
Has the scent of new carpet
Leaves no residue on carpets once the carpet has dried
Cons
Cons
Has a powerful odor that will require any rooms it's used in to be ventilated
---
Bissell Pet Pretreat + Sanitize Stain & Odor Remover – Best Pretreat for Pet Stains
The Bissell Pet Pretreat + Sanitize Stain & Odor Remover is suggested for people with old carpets. It can do a restoration job that would have otherwise been a burden with relying upon professional cleaner. Instead, everything is left up to the product alone, which can restore old rugs and carpets to their former glory.
It doesn't fade so much like some carpet cleaners, getting out dirt and scum while retaining a carpet's original color at the same time.
Those deeply-rooted urine stains that have never come up will be completely gone once the Pet Pretreat job is complete. By the way, getting it to dry in a timely manner won't take all day either. You can also try it out with a carpet cleaner, or even mix it with other products used for cleaning the carpet (just be sure that the other bottle is safe for you to mix).
Pros
Pros
Can restore old carpets to their former color, without completely fading them
Deep urine stain will come up when soaked with the product for a short period
Short drying time
Cons
Cons
Works best when used with additional appliances and cleaners
---
Bissell Stain Pretreat for Carpet & Upholstery – Best Pretreat for Furniture
The final product on the list is the Bissell Stain Pretreat for Carpet & Upholstery Cleaner. It's another one that's great for restoration, as with the previously shown bottle from the same brand. Once your carpet has had time to dry, it will look as if you just installed it on the same day. It's also safe to put on furniture of all kinds.
By turning the nozzle on the tip that's above the trigger, you can aim your sprays at tough areas or allow it to cover a wider area with the "spray" indicator. Do allow the formula to sit once you've treated and cleaned. Doing this will ensure that the stain comes out completely, and has time to settle at the very bottom of your carpet. Remember, want something that will penetrate all areas, which is what this Pretreat will do when used alongside your favorite cleaner.
Pros
Pros
Brings old carpet to a new-like state
Suitable for cleaning up mattress stains
The stream of the nozzle can be changed to suit the user's preferred method of application
Cons
Cons
May not work on some stains unless the formula is allowed to sit for several minutes
---
Buyer's Guide
Here are some useful tips to help you choose the best cleaning product for your home.
How to Pick the Best Carpet Cleaner
The most important thing to look for in a carpet cleaner is size first. Keep in mind that many of them will list ingredients that aren't much different from each other. From this, your focus should be on the size of the carpet being cleaned. If you have a lot of stains that are spread out over a wide area, consider two bottles instead of one. Additionally, most good cleaners will be non-toxic to humans and pets. Locate details of the bottle on the brand's product description. If this is the case, it will say so on the back. If it doesn't, then you can assume that it's best for you to wear protective equipment for your hands while you spray and clean. And don't forget about whether it's okay for you to spot clean with it in the first place. If so, then you won't have to rely on a vacuum or other electronic device to get the water to dry faster.
How to Locate Stains
Finding out where all of those hidden or forgotten about stains are can be the hardest step to finish in the cleaning process. Sometimes, taking out the carpet might be necessary to get the floor completely clean. But if you're not able to do that, it's strongly recommended that you invest in a handheld black light. A black-light will help you find all hidden stains and test how well they come up from the carpet after you're done with cleaning. As you may have guessed already, this works exceptionally well for pet stains. However, remember that black lights emit ultraviolet light, which can detect the boundaries of stains even after you've cleaned the area. So long as they're no visible to the naked eye, this isn't indicative of a poor cleaning job.
Pretreating your Carpet
Some carpet cleaners require that you pretreat them with a separately-sold solution. They're easy to find (several are shown in the reviews above) and should be sprayed on the stains directly prior to using the cleaner. Doing this helps the cleaner work better while also resorting your carpet's original color back to the hue that it was prior to becoming stained. Some carpet cleaners don't require that you use a pretreat beforehand, so check out those if you're in a hurry to get things done quickly. But if not, it's advised to spray them as a preliminary method for removing very tough stains.
Sensitivity
You probably already know your sensitivity to cleansers and cleaners. But if not, tread carefully with carpet cleaners. Some of them can have very strong smells and could even irritate the eyes in some people. Although many claims to be non-toxic, it's always a good idea to use cleaning gloves when they're available. It will make washing your hands afterward much easier. As you clean, be sure to open windows in the area being treated. Not only will this help your carpet becoming dry quicker, but will refresh lingering air in the room, resulting in a lower chance of experiencing an allergic reaction to the cleaner.
Video Tutorial: Making Carpet Cleaning Inline Injection Sprayer
Conclusion
Which cleaner do you think are the best? You should always base your final buying choice on the one you think will work best. Doing so is even more pertinent if you have a sensitivity to cleaning products. In any case, the Folex Carpet Spot Remover and Bissell Pro Power Shot/Oxy Carpet Spot are exceptional at the thing most consumers look for in such products. They work fast and can separate dirt from carpet with minimal conditions for pretreatment. That's not to say that the other cleaners won't give you good results, either. In fact, they're great for specific purposes that might make one a better choice. But no matter what, you'll be happy to receive one of the brands evaluated. Get ready to bring your carpet back to life!
---