Quick Look at the MC1385
From the Manufacturer:
"The McCulloch MC1385 Deluxe Canister Steam System is a multi-purpose steam cleaner, great for cleaning and mopping. Using ordinary water heated to over 200 degree Fehrenheit, the MC1385 effectively and naturally cleans and sanitizes a wide variety of surfaces. With more steam time and variable steam control the MC1385 is equipped for the toughest jobs."
Pros
Long steam time (2hrs)
More accessories than similarly priced models
2 year warranty
Variable steam control
Cons
Build quality is not nearly as good as more professional brands
Full Review
Steaming is an environment-friendly way of cleaning tiled floors and other hard surfaces around the home or shop.
Parents favor the technique for tidying up kitchens and baths without toxic chemicals. Hot steam is also effective in eliminating bed bugs. In this McCulloch MC1385 Deluxe Canister Steam System review, we look at how well this canister-type model performs in various steam cleaning tasks.
Steaming and its uses
Steam cleaners allow you apply cleansing hot vapors wherever they are needed. Grout stains on tile floors that are hard to scrub off by hand are promptly loosened by the dissolving effects of forceful jets of steam.
Steaming also works safely on laminate floorboards, when carefully applied with mop attachments. This method leaves only tiny amounts of moisture behind and is the safer option for laminates. As a bonus, exposure to temperatures of at least 120°F will kill any and all bed bugs caught directly in the steam path.
Another great use is cleaning your oven. We all know how hard they can be to clean! Skip the hassle of self cleaning ovens that take hours to complete and leave the house hot and smokey. With a little elbow grease, a steam cleaner will do just fine!
Features
1500-Watt heating element
High 210˚F temperature quickly kills bed bugs
On-demand adjustable trigger
Up to 4 bar (58 psi) output pressures
Large-capacity 64-ounce boiler produces steam for almost 2 hours
Wide range of accessories
Design
This big steamer has more than enough capacity to deal with a variety of jobs, owing to its thoughtful design, sturdy construction, and the many useful accessories. The housing is sufficiently trim that it can be readily rolled to other rooms.
A locking trigger on the handle enables non-stop steaming without the need to repeatedly trigger output. The 64-ounce boiler needs less frequent refilling than smaller units and can provide up to 2 hours of steam. The pressure gauge provides a safety check but normally fluctuates between 4 and 2 bar as pressure releases then builds up again.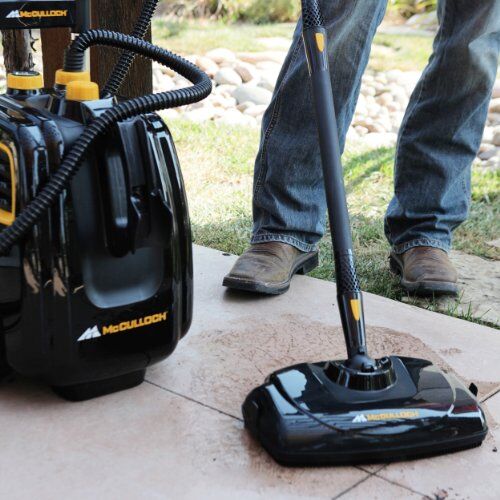 One of the nicest things about this package is its broad range of accessories, including jet and angle nozzles, 2 extensions, large and corner brushes, brass and nylon utility brushes, a pair each of scrubbing pads and round brushes, and microfiber pads.
Also included are a useful mop head with bristle attachment, scraper, filling cup, squeegee, and a storage case and accessory net.
Performance
Within 12-15 minutes of switching on, the heating element generates jets of steam with temperatures beyond 200°F and pressures reaching 4 bar (58 psi). We figured that triggering the switch a few times for 5 minutes gets water to run and steam to build.
This steamer is fantastic for car detailing. Here's a video showing the steamer in action.
We always start with the lowest setting then raise it as needed, tailoring the output for various jobs, i.e. delicate steaming for walls and light stuff, heavy steaming for tough kitchen and bath problems. With almost 2 hours of continuous steaming possible, however, the grip really warms up in long use.
Refilling the tank through can get tricky, though. A funnel would have helped in preventing spills. We were careful not to overfill, as doing so leaves no room for heat expansion and slows steam build-up.
Summary
The pricey McCulloch MC1385 is a big steam cleaner that is designed and built to make short work of just about any steaming job at home.
The large boiler capacity and long cord and hose is excellent for covering large areas of tile floors and other hard surfaces. Its combination of powerful jets and useful accessories will enable you to deal with the worst stains afoot in any kitchen or bath floor.
Out main gripe with this steamer is the build quality. Both the steamer and attachments showed signs of quality issues so keep this in mind.
Warranty Information
2 YEAR – LIMITED WARRANTY
Additional information can be found here
No products found.