---
Choose the Best Shark Stick Vacuum
[modalsurvey id="397949555″ style="flat"]
Customer's Choice: the Best Rated Shark Stick Vacuums
[survey_answers id="397949555″ style="plain" data="score"] users answered this survey. Please help us improve this review!
[survey_answers id="397949555″ style="piechart" legend="true"]
[survey_answers id="397949555″ qid="1″ aid="1″ style="plain" data="answer_percentage"] of users selected [survey_answers id="397949555″ qid="1″ aid="1″ style="plain" data="answer"], [survey_answers id="397949555″ qid="1″ aid="2″ style="plain" data="answer_percentage" init="true"] selected [survey_answers id="397949555″ qid="1″ aid="2″ style="plain" data="answer"], [survey_answers id="397949555″ qid="1″ aid="3″ style="plain" data="answer_percentage"] selected [survey_answers id="397949555″ qid="1″ aid="3″ style="plain" data="answer"], [survey_answers id="397949555″ qid="1″ aid="4″ style="plain" data="answer_percentage"] selected [survey_answers id="397949555″ qid="1″ aid="4″ style="plain" data="answer"] and [survey_answers id="397949555″ qid="1″ aid="5″ style="plain" data="answer_percentage"] selected [survey_answers id="397949555″ qid="1″ aid="5″ style="plain" data="answer"]. Every month we analyze your answers and change our rating.
---
If you are in search of perfect cleaning tools to clean a low-pile carpet or bare floor easy and quickly, use lightweight stick vacuums. There is not always time to get out of the chamber a heavier full-size canister or well-known upright vacuums. This takes time, and stick vacuums can clean up small rubbish in the kitchen, after a pleasant breakfast or dinner, freshen up the low-pile carpet before the arrival of guests, or remove small hairs that are piled up in the bathroom. Such vacuums are inferior in power to those to which we are accustomed. They are not suitable for deep cleaning, but they are convenient, take less space, and are easy to use. The operation of such vacuum cleaners will bring you the pleasure of comfortable and easy use.
The most important features to check when choosing a vacuum machine are:
Comfortable handle – available in two configurations: handheld or upright;

Filter – does not require washing or changing;

Suitable battery type – all handheld vacuums must be portable. This is why they run on batteries. The battery charge should be sufficient for at least an hour of continuous operation;
Since such type of vacuums has different technical characteristics, they are intended for different types of cleaning. In this buyer`s guide, you will find those stick vacuums that every housewife should have in the house. You can find an inexpensive model, a vacuum for cleaning hardwood floors, a vacuum for cleaning hair, small debris. If you have doubts about what type to choose, check out the following reviews with pros and cons. Check out this list. One of these vacuums should be in your cleaning arsenal.
Rocket Zero-M Self-Cleaning Brushroll Corded Stick Vacuum– the best for deep-cleans that cleans itself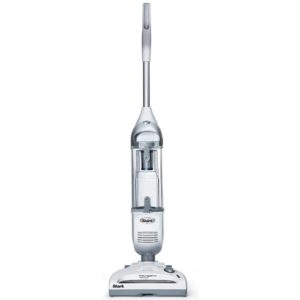 If you are searching for a technologically superior cleaning machine with strong suction, we advise this model. It not only cleans up debris on the floor but also has a deep cleaning vacuum. This product is effective and cleans well thanks to the Zero-M self-cleaning brush roller.
It provides continuous hair removal. You don't need to use scissors to remove hair that has accumulated on the vacuum cleaner brush.
Besides its refined design, this product features an advanced pivot steering, making areas under furniture a thing of the past. Users will appreciate its performance on a variety of surfaces – deep cleaning carpets and powerful suction to pick up debris from hard floors, furniture, stairs, and more. With these features and more, it will keep your home clean.
Pros
Pros
Durable ABS and PP plastics;
Has a dust cup with extra-large dimensions;
Advanced swivel steering;
Self-cleaning brush roll;
Converts to hand vacuum;
Has detailed instructions;
LED Headlight.
Cons
Cons
Mains powered, no battery required;
Filter type – Washable foam & felt
This vacuum machine has many pre-installed features – hand vacuum mode, plum purple, XL Dust Cup, Swivel Steering, Washable foam & felt filter for cleaning. You can change the angle of the brush, which allows you to wash the floor, carpet, ceiling, stairs, and much more. It can be an indispensable companion in your home.
---
Shark ION F80 Lightweight Cordless Stick Vacuum with MultiFLEX- the best for its runtime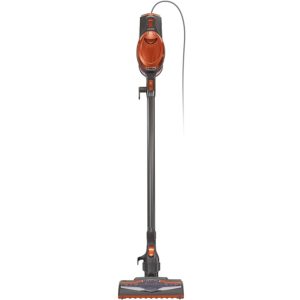 If you regularly clean your home, use a Stick Vacuum with MultiFLEX. This particular model will suit you perfectly. One of the key features of this particular model is 2 batteries in hand vacuum power vogue.
The vacuum cleaner's running time has increased up to 80 minutes of total runtime. If the flooring of your home is uneven and has both hard floors and carpet, this model will do the perfect cleaning with powerful cordless suction for everyday dust, debris, dirt, pet hair, and high traffic area. They design the brush attachment for deep cleaning of carpets, gentle cleaning of hard floors, and complete shutdown. It is lightweight and easy to carry around the house.
Pros
Pros
2X Ion power pack system;
Multiflex technology ;
Need not use soap;
Compact storage;
Has 7-year limited warranty
Mobility. No wires and easy moving with an electrical appliance around the house
2 batteries twice the runtime.
Cons
Cons
There is no HEPA filter;
The need for recharging. Whatever one may say, but even a device with a long battery life requires periodic recharging;
It is inferior in suction power to its shark stick counterparts;
Small dust cup.
Other features of the device include Flexible Reach. You can collect dust under sofas, bedside tables, and cabinets. You can change this vacuum cleaner to a Hand Vacuum. This feature allows you to remove cobwebs from the ceiling and corners. We can consider this device loud if you are sensitive to sound. It also requires space to store the rack and all accessories for this model of the vacuum cleaner. However, it is the best option for those of us who do long clean and who care about total cordless run time.
---
Shark HV382 Rocket DuoClean– the best for overall-cleaning ultra-light ever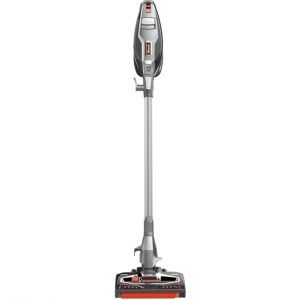 This model is an ultra-light and weighing only 9.9 pounds. You can easily convert this cleaning device into a portable vacuum cleaner. It can perform all-round cleaning from floor to ceiling and remove three types of dirt from floors and carpets: small debris, large and adhering particles.
Rocket Vacuum cleaner features Duo Clean technology with two brush rollers that work in unison. It is a multifunctional tool for cleaning pet`s hair. It is a networked product (not cordless) but can be converted to a handheld vacuum cleaner using 1 Lithium-ion battery.
Pros
Pros
Dual brush roll system;
Pet multi-tool;
LED lights on the floor nozzle and handheld vacuum;
Brush roll garage.
Cons
Cons
High cost, more expensive than previous models;
Limited time in handheld mode.
You do not need much space to store this model of a vacuum cleaner: the compact unit can fit literally in any corner of a house or apartment, a utility closet, behind a curtain, etc. This model comes with a special holder which further simplifies the storage of the device. Three cleaning modes deserve special attention: Deep-Clean Carpets, Directly Engage Floors, Pull-in High Piles. This is a great helper for owners of not too large apartments. It is perfect for families with small children and for those who prefer to keep the house clean, rather than accumulate dirt before general cleaning.
---
Shark Rocket Corded Bagless Stick Vacuum– the best for Swivel Steering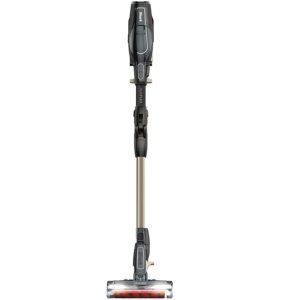 This corded vacuum cleaner is a godsend for people because it easily becomes a handheld model for all-round cleaning. Having small dimensions and weight, it has a high power of suction of dirt, at maximum power, it easily removes even complex dirt.
It features a swivel steering gear for superior control when maneuvering around furniture. It is convenient for them to clean not only the floor but also other surfaces, to clean dirt from different places. It is easy to care for such a vacuum cleaner; it takes up brief space, it can be stored by using a handheld vacuum cleaner to the bottom of the stick.
Pros
Pros
Can be changed into a handheld one;
Fingertip controls;
Swivel steering for excellent control;
Five-year (5) limited warranty;
Numerous attachments. A different brush for every task. Cleaning quality remains top notch;
Low noise level because of the structural features of the vacuum cleaner.
Cons
Cons
No batteries required;
Small dust cup.
In terms of power, this model of a vacuum cleaner is not inferior to conventional ones. It can collect not only dust and fine dirt, but also larger debris. It will easily pick up the scattered seeds or cereals because includes: crevice tool, precision duster, corded stick vacuum, and pet multi-tool.
---
Shark Navigator Freestyle Upright Stick Cordless Bagless Vacuum– the best for cleaning pet`s hair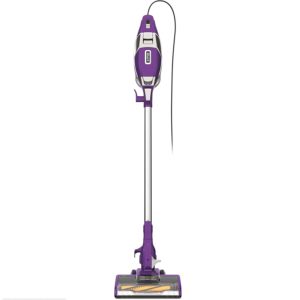 This model is designed for cleaning dirt, dust, small debris. This device will refresh furniture, remove soft surfaces from dust. It is used to clean woolen fabrics, blankets, mattresses, clothes, carpets. If you need to clean up several times a day, something scattered, spilled. It is difficult to carry a bulky device with you.
The manual unit will allow you to clean quickly with ease and convenience. The little assistant will help out if the cleanliness of any volumes, surfaces is induced. This allows you to collect pet hair that sticks to just about anything with a switch that adjusts the brush to work on different surfaces.
Pros
Pros
Pick up pet hair;
Dust cup capacity is bigger;
Swivel steering for easy use;
2 speeds settings (carpet & floor cleaning)
Cons
Cons
Just one-year limited warranty;
Limited usage time due to overheating and battery drain.
Although relatively large, this model comes with the accessories you need to clean every corner of your home. Dynamic swivel steering also simplifies overall maneuvering, allowing for cleaning in tight spaces.
Since this model is designed to remove hair from pets, try a standard pet brush followed by an easy empty dust cup. Its dimensions will allow for easy handling and the need for small storage space.
---
Buyer`s Guide
Weight.
The selection criterion is the weight of the vacuum machine. The handheld device must be compact, not bulky, lightweight. Giving preference to low weight, pay attention that this indicator does not reduce the quality of the product: engine power, body thickness.
Floor-type.
Such models are designed for cleaning hard floors and low-pile carpets. They can remove cobwebs/ceilings and clean corners using swivel steering. For deeper cleaning, you may need a full-size upright or canister vacuum.
Storage space.
The small size allows you to put the stick vacuum under a bed, on a nightstand, or in a dresser.
Final Words
The Shark Stick Vacuum is a compact and functional assistant that comes in handy for daily maintenance and cleaning of individual areas. A mini cleaner will help you clean not only carpets and hard floors, but also chairs, windows, and appliances. If you use the device infrequently, we recommend taking a closer look at the network device – it is cheaper. If you plan to turn on the manual cleaner every day and clean the interior of the car with it, a device with a battery will be suitable.
Video Tutorial: Shark DuoClean Corded Stick True Pet HV390UKT Vacuum Cleaner First Look