When it comes to cleaning, probably every householder would like to have a reliable powerful tool at hand. A great variety of vacuum cleaners are now available online to order. They do differ by their characteristics and functions, so when choosing the one which would meet your needs best, it is important to decide clearly on the most prominent purpose of its further use.
Here are some factors which should be taken into account:
the type of surface prevailing in your house

: are your floors covered with carpets from wall to wall? Do you have hard floors or maybe a combination of different surfaces?;

presence/absence of stairs

: is you do have stairs, you definitely need a light and maneuverable vac;

pets/kids at home

: do you need a vac to properly suck up pet hair? Or maybe you need the one that picks up large debris thrown around the house by children?;

indoor/outdoor cleaning

: do you intend to clean up your home? Or would you like to find a good tool to do cleaning-up in your car?.
We've chosen 5 best vacuums available on Amazon and described them in this review. The comparison table below includes some basic details about the 5 Best Shark Vacuums' features.
Shark VM252 VACMOP Pro Vacuum Mop – For Ultimate Convenience
With Shark VM252 VACMOP PRO Cordless Hard Floor Vacuum Mop, you can do a complete cleaning-up of sealed hard floors by vacuuming and mopping them with one tool.
It can be safely used to get rid of stuck-on dirt, as well as to absorb wet messes, on linoleum, stone, vinyl, laminate, tile, vinyl, marble, hardwood floors. The mop locks down all the debris into the pad's dirt chamber and when it's full, all you need is to dispose of the pad and replace it with Shark Mop Pad Refills.
It takes about 3.5 hours to charge the mop with a magnetic charger.
Pros
Pros
Powerful suction, pulling in debris instead of pushing it around the room;
Spray mopping, breaking down stuck-on dirt;
Disposable pads, making it needless to ever touch the mess;
Quick and easy to charge;
Cordless: do cleaning from room to room without a cord hassle;
Lightweight and compact;
Powerful LED headlights: reach even hidden debris in all corners of your home.
Cons
Cons
Works only with disposable pads;
The pads may be hard to find and purchase;
Suitable exclusively for sealed hard floors;
May require an adapter to work properly in a certain country;
You may need to replace the pad with a refill almost after every cleaning-up.
In case you have a sealed hard floor at home, and you need a tool to clean it up properly but at the same time effortlessly, Shark VM252 VACMOP PRO Vacuum Mop may be what you're looking for!… But if only you're okay with the idea of mopping the floor with the same pad you've just done vacuuming with.
---
Shark Navigator Freestyle Vacuum – Best Choice for Pet Owners!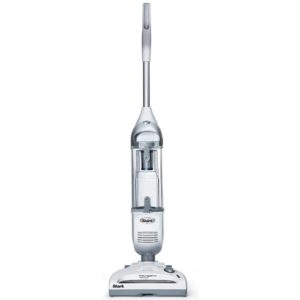 The Navigator Freestyle Premium Cordless Vacuum features a swivel steering, an XL dust container, and a brushroll with 2 speed modes. This model is bagless.
The mess is gathered into an easy-to-empty see-through dust cup with 0.64 quarts of capacity. The vacuum operates with a 10.8V Battery which is included as a set together with a charging base.
The Navigator Freestyle Premium Vacuum can ensure a superior cleaning, perfectly removing embedded pet hair from your carpets.
Pros
Pros
Suitable for both carpet and bare floor;
2 speed modes;
Free-standing;
Cordless&Maneuverable: can reach debris around and under pieces of furniture;
Works well on stairs;
Washable filter;
Can pick up cat litter.
Cons
Cons
May not suck up small-sized pieces such as cheerios, crackers, cereal, etc.;
The risk of damaging a bare floor because of the uninterruptible work of the brush.
Has no lights except for the switch light.
The Navigator Freestyle Premium Vacuum may be of great help to you provided that you're a true pet lover. However, if it is not pets but rather kids who make your home dirty most by throwing everything around, then you should probably seek another option.
---
Shark Pet-Perfect Hand Vacuum – the Best Portable Option!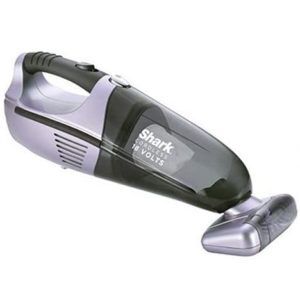 The Shark Pet-Perfect Hand Vac features Twister Cyclonic Technology ensuring a strong suction. This model has a rechargeable 15.6V battery. It is cordless and bagless.
The Shark Pet-Perfect Hand Vac features Twister Cyclonic Technology ensuring a strong suction. This model has a rechargeable 15.6V battery. It is cordless and bagless.
Pros
Pros
Lightweight and portable;
Includes a crevice tool for deeper cleaning of hard-to-reach places;
Packed with a charging adapter;
Works great for car vacuuming;
Can be used to suck up cat litter and pet hair;
No need to hold down the power button to use the vacuum.
Cons
Cons
Repairing is economically unviable;
Non-replaceable belt;
A high risk of poor battery life;
The recommended temperature to charge the battery is not lower than 32°F.
If you need an easy-to-use, powerful, portable tool to clean up hard-to-reach areas at home or in your car, you may like this hand vacuum.
---
Shark ION F80 Stick Vacuum – Best for Durable Cleaning!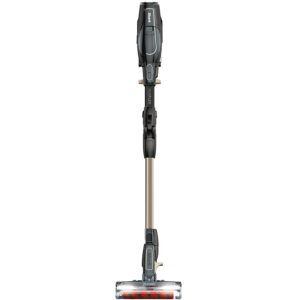 The Shark ION F80 Stick Vacuum combines 2 technologies: Multiflex and Duoclean. The technologies are intended to tackle fine dust and large debris from carpets and hard floors cleaning up even hard-to-reach places under pieces of furniture.
Also, they ensure compact storage and freestanding.
This Shark Vacuum is packed with 2 rechargeable lithium-ion batteries together with a charging dock. While one battery is charging, you may be using another to keep on cleaning. Thus, the total runtime can last up to 80 mins in ION Power Mode. It takes about 3.5 hours to charge a battery.
Pros
Pros
Transformable into a hand vac;
1 powerhead, 2 brushrolls;
Longer runtime;
Flexible reach;
Compact storage;
Easy-to-clean from the wrapped hair brushrolls;
Effortless switching between different types of surfaces.
Cons
Cons
Too small capacity of the dust cup;
Quite heavy;
Engineered to be used in North America and charged on 120 Volts;
Uninterruptible work of the brushrolls regardless of the mode.
The Shark ION F80 Stick Vacuum may be a great helper for those who own large houses with different types of surfaces and spend much time cleaning up the whole area. However, if you're looking for a tool for everyday quick cleaning-up in a comparatively small house, you'd rather look for a lighter option.
---
Shark ION P50-IC162 Upright Vacuum – Best for Versatile Cleaning!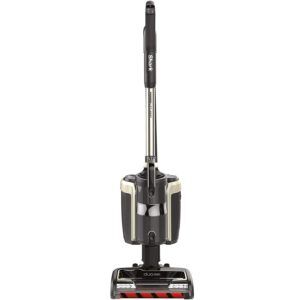 The Shark ION P50-IC162 Vacuum with powered lift-away offers 3 versatile modes of cleaning:
upright vacuum mode for deep cleaning of carpets and hard floors;
stick vacuum mode to easily reach under-furniture areas;
handheld vacuum mode for cleaning hard-to-reach places around the house or in a car.
The cordless vacuum features DuoClean Technology. Having 1 powerhead and 2 motorized brushrolls, it suits perfectly for cleaning dust and debris from carpets as well as from hard floors. Fitted with a HEPA filter, the Shark ION P50-IC162 Vac sucks up and locks up to 99.99% of dust and allergens based on ASTM F1977 of particles 0.3 microns and even larger.
The vac can assist you in cleaning up to 50 minutes in ION Power Mode having one removable battery. The 28.8 Volt battery can be charged in or out of the vacuum, so another battery may be additionally purchased to continue cleaning while the first one is charging. The vacuum comes with the accessories such as a duster crevice tool, an upholstery tool, and a dusting brush.
Pros
Pros
Powerful suction;
Replaceable battery;
3 versatile modes of cleaning;
Anti-Allergen Complete Seal Technology;
Compact storage: freestanding and upright;
Rubber front bumper;
Ability to charge the battery in or out of the vac;
The battery and debris container off the handle;
The dust cup of large volume.
Cons
Cons
Heavy;
Intended to be charged on 120 Volt;
Not supposed to be exposed to water or other liquids;
Removing the HEPA filter requires removing the battery first;
No self-cleaning head;
May clog often;
Uninterruptible work of the brushrolls regardless of the surface.
In case you are allergic to dust and need a cleaning solution with powerful suction, then Shark ION P50-IC162 Vacuum, fitted with the Anti-Allergen Technology, may be ideal for you.
---
Buyer's Guide
When choosing an ideal vacuum for your cleaning needs, pay specific attention to the following technical specifications:
Vacuum performance.

Learn not only how many

watts and amps the vacuum cleaner's motor uses, but also its

suction power and airflow specifications as the next feature is directly dependent on this.

Quality&Durability

. These are interdependent. Look for vacs with solid high-quality components and longer warranty terms to pick the one for long-term use.

Ease of use and storage

. Mind the dimensions and weight of the vacuum. Carefully read the product descriptions and reviews to find out how maneuverable it is.

Dust container

. What do you prefer: a vac with a bag for debris or a bagless one with a dust cap instead? If you have an allergy or asthma, you'd rather choose a bagless one. By the way, how often you'll have to empty the dust cap depends directly on its capacity.

Filtration

. Don't neglect this specification, since if a vac features low filtration ability, it won't manage to keep all the sucked up dust inside. As a result, the fine particles may go back to the air in a room just through the vac and settle as dust again.

Price

. Depending on your cleaning needs, you may buy a not very expensive vacuum, up to 400$, but it's more likely to suit for cleaning of bare floors or very flat carpeting only. The price ranging from 400$ to 600$ is considered to be reasonable for a quality durable vacuum with excellent performance. A vac with more advanced extra features will cost you starting from 600$.
Video Tutorial: Shark IZ251UKT Cordless Vacuum With Anti Hair Wrap & Duo Clean
Conclusion
In this Top 5 Best Cordless Vacuums review, we've gathered the most reasonable options to meet various cleaning needs such as an every-day quick cleaning-up, spring-cleaning, cleaning in a car, removing pet hair from carpets, etc. Each of the reviewed tools may provide a thorough cleaning-up if used according to the recommendations. Do not neglect them, do not carry out experiments, and enjoy cleaning with a durable vacuum. So, be attentive to details when choosing a vacuum cleaner and, hopefully, you'll choose an ideal option for long-term use! Good luck!
---